Assistant Director of Graduate Admissions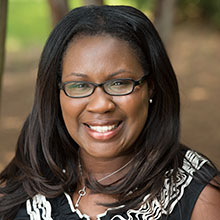 Being a native, I really enjoy the rich culture and history in New Orleans. Having lived in Houston, Texas for 12 years, I appreciate returning home to the big city/small town feeling of the Crescent City. It is truly the best of both worlds and you can't help but love such a unique and thriving place!
Here at Loyola University New Orleans, we share that same feeling with our small classroom sizes, student-faculty relationships, and abundant campus life and rich history. Our students are building relationships, a sense of community, and developing as individuals academically and socially. Serving the campus visit program allows me the opportunity to share with you what makes Loyola University New Orleans and this amazing city such a great place to call home.
Geaux Wolfpack!
Office: Thomas Hall
Mailing address:
Loyola University New Orleans
Office of Admissions
6363 St. Charles Ave.
Campus Box 18
New Orleans, LA 70118
Phone number: (504) 865-3240